After a much too long hiatus due to the house move I have a layout under construction. It is on a piece of of 36 x 24 inch 2 inch thick blue foam with a thin plywood frame. If the building's shapes looks vaguely familiar it is because they were inspired by Ian Holmes' Puresprings. The locale is the stable area on an estate somewhere in The Shires. This should give plenty of work for the line. Name as yet unknown but one day it will suddenly appear in my mind based on previous experience. Buildings will be all brick and I have made my own brickpaper using images from
http://www.mayang.com/textures/index.htm
I am very pleased with the result. When I get my camera fixed I will post some better images.
Brian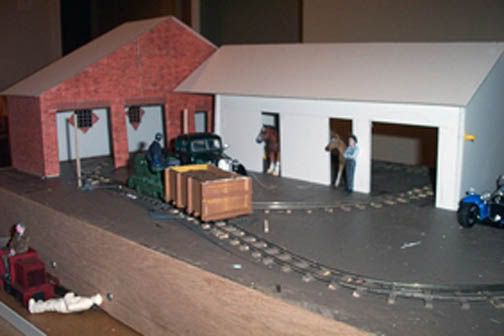 January 13 2008
-
just went back through the files to post a link to this topic and decided to correct an error I made on my first attempt to upload an image. This image did not appear until now.
Bear this in mind when you read the following posts. I still don't know how the Pender St Mill image got in there.
Sort of interesting to look back at what was possibly my first post. A lot of my verbiage has flowed by since then.