OK, made a start on the Gn15 layout that Gneeds to be ready (along with the Gnine one) by August 10th.
The name is a bit of a pun, but might go over the heads of a lot of people (not on this forum, most people in here are Gnearly as mad as me
), but I like it and that's what counts
I was trying to come up with a name on a feline theme
Anyone Gnow where I can get some 1:22.5 scale mice? I already have some suitable cats
OK, a couple of pictures, the layout is 24"x24", and will have a removable storage facility that will hold 2 tracks. The idea is that these storage sidings will sit behind the Gnine layout when the two layouts are on the table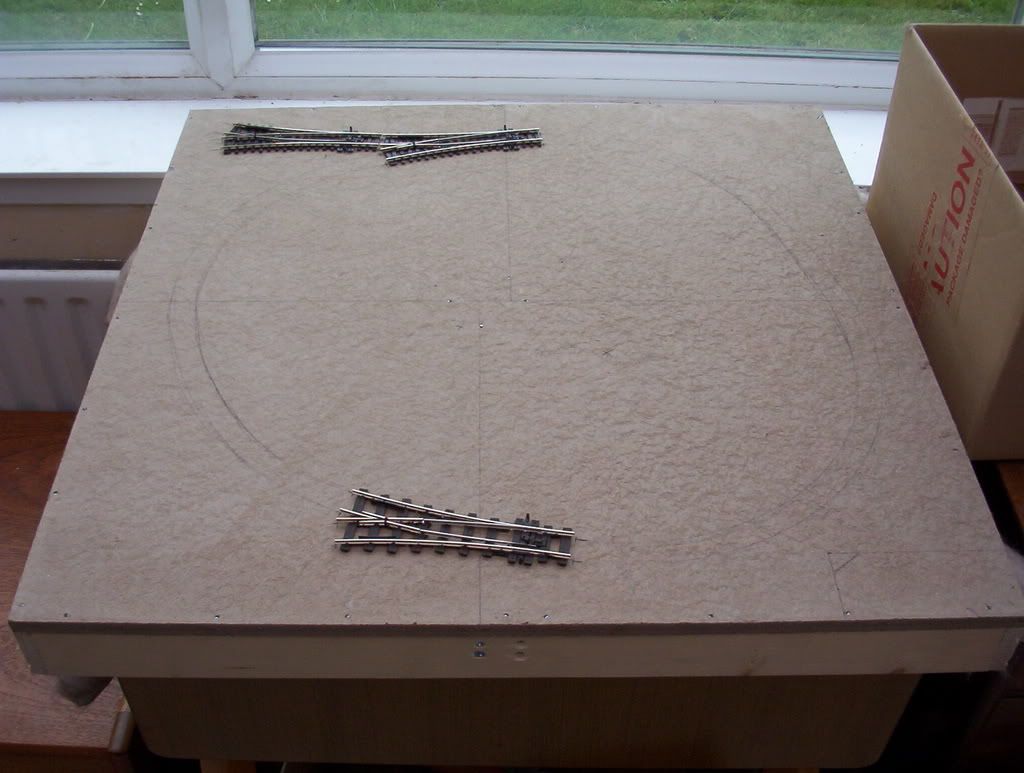 The board with the trackplan drawn on in pencil, ruling curves are 7" radius.
Track laid and fixed, all dropper wires soldered in place, the modified Peco Streamline Electrofrog Wye Point matches the Peco O-16.5 Crazy Track wonderfully
I tested the track with a Bachmann 0-6-0 loco (same chassis as the "Thomas") and I had to ease one tight spot on the curve just to the right of the point in the top of the picture, the loco was derailing about one go in five, but only in one direction. Once the curve was eased by about 3mm in that one spot (two sleepers worth) then the loco had no more problems getting round the track, but you could hear the flanges in contact with the rail in four places
The length of run is a fraction under 2 yards, and I had the Bachmann 0-6-0 flat out around it. It was lapping the track in just about three seconds
Didn't derail though